We offer Chrome Plating 
Santa Ana Wheel can re-chrome and chrome wheels for the first time. If you have slightly damaged or severely damaged chromes wheels with curb rashes, corrosion, or peeling, we can make any tire look like new!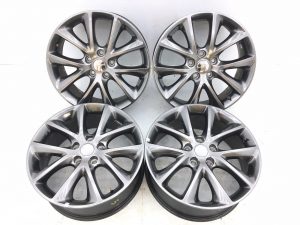 1. Traditional Chrome: is the process of putting a thin layer of chromium on an aluminum wheel. This offers an extensively mirrored and shiny look and feel that no other plating or coating can match. It turns a flat color like silver to a bright mirrored finish. The main benefit of chrome plating is the wheels become highly resistant to corrosion and rust. This makes them able to withstand harsh weather conditions. The chrome plating also makes the wheels much harder and durable than steel wheels or aluminum alloy.  Pictured on the right.
Price:$250.00-$300.00 per rim. 
Average Labor Time: 2-4 weeks
Q: How is chrome different than painting wheels?  
A: Chrome plating is the process of electroplating the material chromium onto a metal object. It takes bout 7-9 business days to complete and the result is a mirrored finish. 
For more details on Chrome, take a look at our short blog
---
**Prices Vary: Contact Us For Custom Service Pricing**