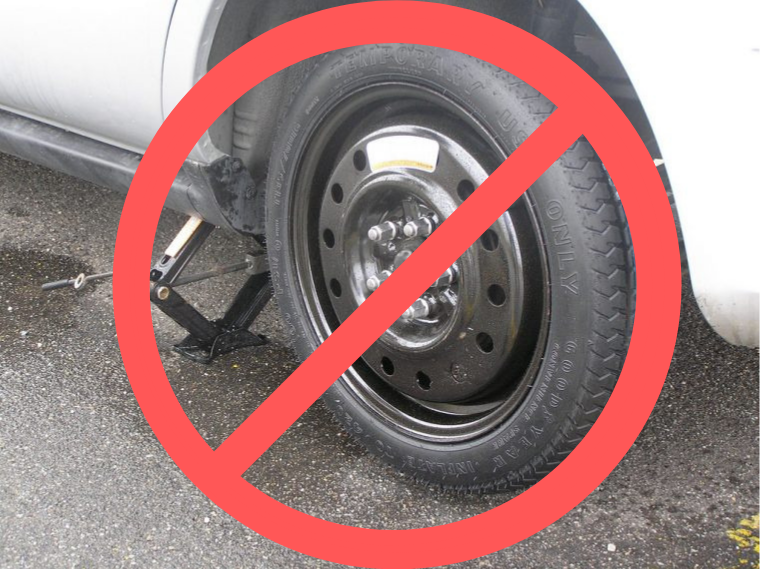 According to a recent report by the AAA, a third of all new cars sold in the United States are not sold with spare tires. The same report found 136 vehicle models that do not include spare tires as stand equipment. Instead, they are offered as an option for an additional charge. An estimated 30 million cars sold in the last ten years, were not factory equipped with spare tires. This percentage might increase as automakers search for different ways to reduce weight in vehicles and improve fuel economy.
Some of these vehicles lacking spare tires come equipped with standard run-flats. They can be safely driven up to 50 mph and offer 100 miles of range. Other automobiles come equipped with tire inflation kits. The kits generally come with sealants and a compressor to re-inflate the tire. It should be noted; however, the kits will not be able to fix all tire punctures, in particular, any sidewall damages or blowouts. It should also be noted some tire manufacturers declare tires to be unrepairable once the sealant is applied. The sealant can also prevent the tire-pressure monitoring system from working correctly and may need to be replaced.
The majority of vehicle owners who are not aware if their car comes with a spare tire will most likely to come to that realization when they need it the most: when they are on the side of the road with a flat tire. We recommend all drivers be prepared in case of a flat tire or blowout. To be prepared, every car owner should know whether their vehicle has a spare tire. If the car does not come equipped with a spare tire, it's recommended drivers either purchase a spare or verify their automobile comes fitted with either a tire-inflation kit or run-flat tires.
If you are interested in purchasing a tire, please check out our Take-Off Tires page.